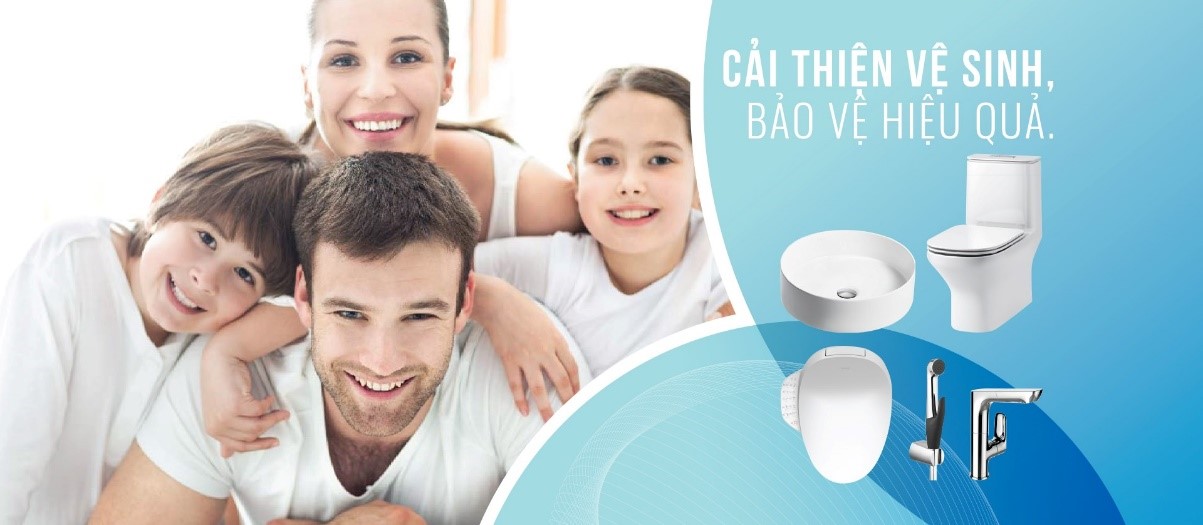 Ho Chi Minh City – 20 April 2020 - Kohler Co., a global leader in the design and innovation of kitchen and bath products, introduces smart solutions to optimize the hygiene efficiency and provide protection to your family, especially during the pandemic period.

In the current situation, protecting yourself and your family from corona virus is considered top priority. Improved hygiene is an optimal preventive measure to limit the spread of the virus to provide better protection to all family's membersKohler aims to provide our customers with personal care products that optimize hygiene and safety, researched and designed by Kohler's top experts. These include designed smart toilets to provide optimal hygiene experience; bidet seats to enhance cleaning efficiency; hygiene spray with modern anti-bacterial material; lavatories with Kohler's Cleancoat technology and water filter to ensure the quality of the water. In addition to bathroom products, Kohler introduces touchless kitchen faucet to make food preparation and cooking easier than ever.
Intelligent Toilet: With one - click samitization, the hygiene steps of the toilet are activated immediately. The smart toilets feature electrolyzed water and UV light functions to clean the toilet bowl and wand, ensuring greater hygiene. In addition, with water filter, the spray water from the wand onto the body is purified and filtered out impurities, residual chlorine and heavy metals for a healthier bidet experience.
Touchless Toilet: According to current studies, dirty hands are a leading cause of the spread of bacteria and virus. KOHLER offers sensor activated toilets with touchless flush technology that leaves behind fewer germs on the hands.
Rimless flush: The toilet provides an extraordinary flushing performance and enables each flush to reach the entire bowl, ensuring no place for germs and dirt to hide and optimal cleaning of the bowl.
Manual and electronic bidet seat: The products are designed to easily install on your existing toilets to bring better hygiene facilities, such as cleaning wand, or water filter.
Luxe hygiene spray: Anti-bacterial silicone handle and the longer metal construction to support the cleaning efficiency.
Exhale shower filter: KOHLER Exhale shower filter purifies the water, protects hair and skin from residual chlorine and heavy metal in city water, improving skin condition and preventing skin problems.
The Cleancoat lavatories: Applying Cleancoat technology on KOHLER lavatories makes it harder for water drops to adhere on the surface compared to ordinary ceramic, providing long-term cleaning performance. Therefore, the lavatories require less water and detergent to clean.
Cuff Kitchen water filtration: Water is the source of life and the foundation of health. The product is able to effectively filter harmful substances while retaining beneficial minerals thanks to high-performing hydrophilic ultra-filtration membrant with uniformly dense with a pore size of only 0.01 um to reduce impurities.
Malleco touchless kitchen faucet: Having a touchless kitchen faucet from KOHLER lets you get to the business of food preparation and cooking, without having to worry about spreading germs. A cleaner kitchen for the ones you love
In Vietnam market, the smart hygiene products are currently on offer with attractive promotions and are officially distributed by RitaVõ. For more information about the products, please visit www.kohler.com.vn

About Kohler Vietnam
KOHLER was established in Vietnam in 2006. At present, it has 8 showrooms in total including the latest KOHLER Signature Showroom located at 335 Nam Ky Khoi Nghia, District 3, Ho Chi Minh City. In Vietnam, KOHLER is officially distributed by RitaVõ. For product information, please contact: (08) 3744 4399 / (04) 6282 2846 or visit the Kohlervn.com website.

About Kohler Co.
Founded in 1873 and headquartered in Kohler, Wisconsin, Kohler Co. is one of America's oldest and largest privately held companies comprised of more than 35,000 associates. With more than 50 manufacturing locations worldwide, Kohler is a global leader in the design, innovation and manufacture of kitchen and bath products; engines and power systems; luxury cabinetry, lighting and tile; and owner/operator of two, five-star hospitality and golf resort destinations in Kohler, Wisconsin, and St. Andrews, Scotland. Kohler's Whistling Straits golf course will host the Ryder Cup in 2021. The company also develops solutions to address pressing issues, such as clean water and sanitation, for underserved communities around the world to enhance the quality of life for current and future generations. For more details, please visit www.kohler.com.