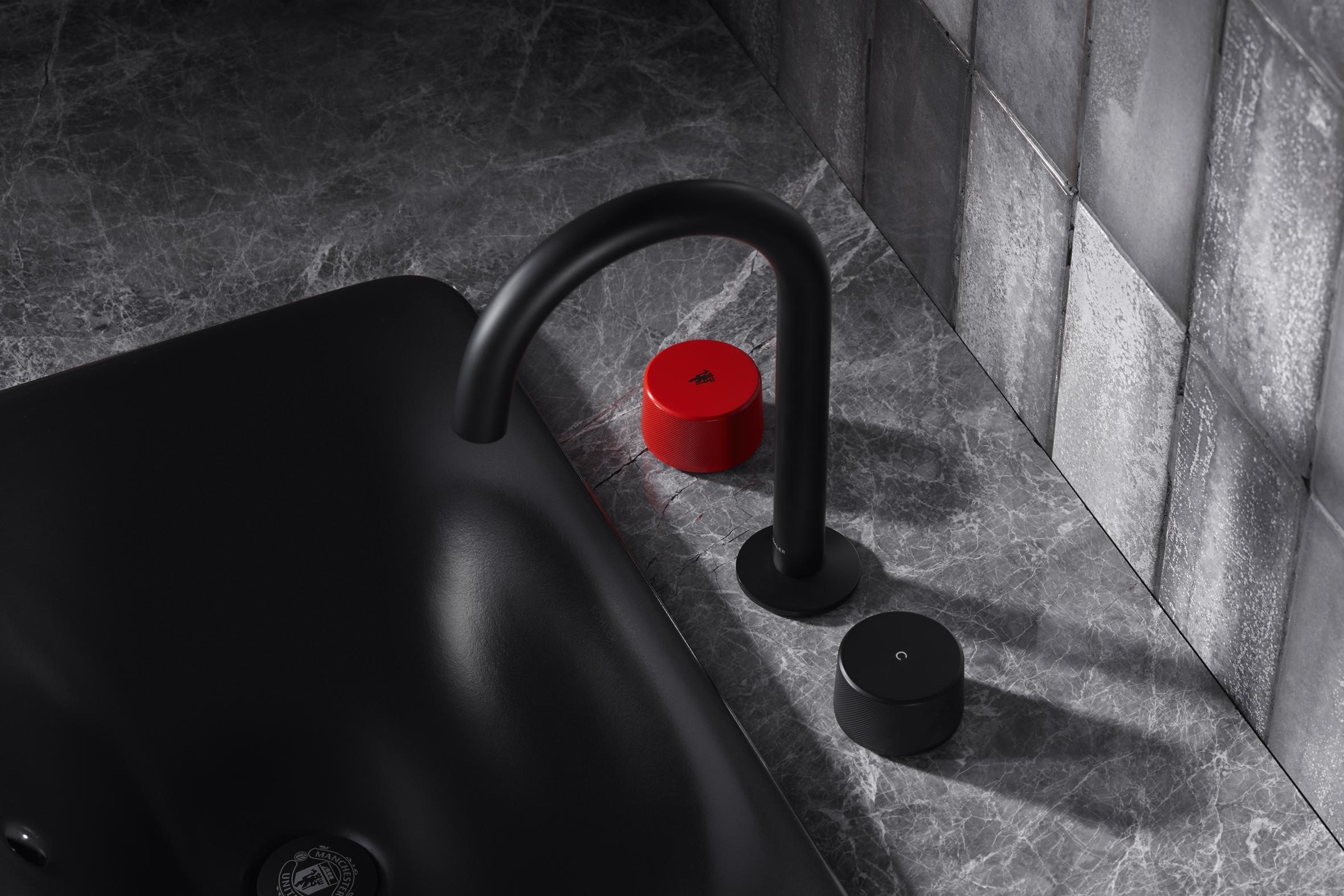 Ho Chi Minh City, December 2020 – Kohler Co., a global leader in the design and innovation of kitchen and bath products, launches the Manchester United Collection now available for purchase and at selected showroom locations in 16 markets in Asia (China, Singapore, Vietnam, Indonesia, Philippines, Malaysia, Thailand, Cambodia, Myanmar, Laos, Korea, Japan, Mongolia, Hong Kong, Macao and Taiwan). The stunning new collection of bathroom products and accessories was developed in conjunction with the iconic football club and offers a high level of design, form and function for bathroom spaces.

The stylish new collection is inspired by Manchester United's legacy of excellence, iconic aesthetic, and Kohler's long history of leading-edge design and quality craftsmanship. Distinguishing product features include alternating layers of matte and glossy black surfaces that exude a fashion-forward appeal, grey tones, and tasteful touches of red emphasizing details like the signature Red Devils logo and other nuances at key points of user interactions. Developed for everyday use, the new products are well suited for those looking to incorporate the boldness of black, while also adding a level of texture and intrigue to their bathroom spaces.

"We collaborated with Manchester United on this new collection to celebrate our partnership with equal parts of sophistication, quality and expression that enhance interior design options for the bathroom," said Larry Yuen, group president, kitchen and bath at Kohler Co. "The restrained yet confident collection uses black as the dominant theme reflecting strength and purpose, with touches of red details in key locations that are subtle,yet daring."

The Manchester United Collection is "designed to be designed" with interchangeable products and accessories. The collection uses the KOHLER Components line as its creative and foundational base, which includes several faucet configuration options, handshowers, shower doors, a sleek chalice sink, and a Volute Freestanding bath. The Manchester United crest is included on select products, including drain covers and bathing accessories for additional detail to help create the desired experience. Rounding out the new offering is the KOHLER DTV Mode, which offers digital and manual showering functionality.

Kohler and Manchester United will continue to develop exciting programs and initiatives around the world to reach new audiences, inspire fans, and engage with customers in meaningful ways. For the latest partnership updates, fans may visit KohlerUnited.com and Kohler United social channels.

About Kohler Co.
Founded in 1873 and headquartered in Kohler, Wisconsin, Kohler Co. is one of America's oldest and largest privately held companies comprised of more than 35,000 associates. With more than 50 manufacturing locations worldwide, Kohler is a global leader in the design, innovation and manufacture of kitchen and bath products; engines and power systems; luxury cabinetry, lighting and tile; and owner/operator of two, five-star hospitality and golf resort destinations in Kohler, Wisconsin, and St. Andrews, Scotland. Kohler's Whistling Straits golf course will host the Ryder Cup in 2021. The company also develops solutions to address pressing issues, such as clean water and sanitation, for underserved communities around the world to enhance the quality of life for current and future generations. For more details, please visit www.kohler.com.

About Manchester United
Manchester United is one of the most popular and successful sports teams in the world, playing one of the most popular spectator sports on Earth. Through our 141-year heritage we have won 66 trophies, enabling us to develop the world's leading sports brand and a global community of 1.1 billion fans and followers. Our large, passionate community provides Manchester United with a worldwide platform to generate significant revenue from multiple sources, including sponsorship, merchandising, product licensing, new media & mobile, broadcasting and match day.