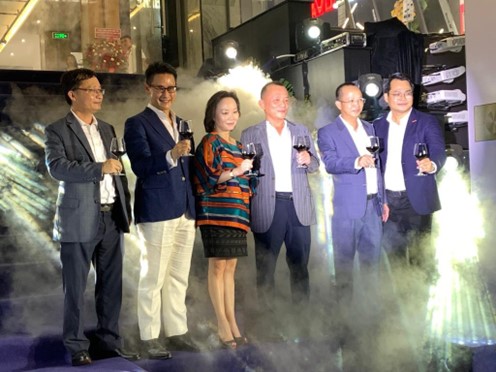 Vietnam, 7th July 2022 - Kohler, a global leader in the design and manufacture of kitchen and bath products, debuted at Kohler Signature Showroom in RitaVo Pro Center with new, innovative luxury products with nods to wellbeing and immersive experiences.
With the growing investment potential of the central of Vietnam - Danang, KOHLER decides to open the KOHLER Signature showroom in Danang City among the series of showrooms opening from 4th July to 9th July. This showroom will provide experience and inspiration to visiting customers with over thousands of products of KOHLER Kitchen & Bath products.
The new KOHLER Signature Showroom is located in the RitaVo PRO Center, a one-stop-shop for building material products displaying KOHLER K&B products and other products distributed by RitaVo.
The new Showroom showcases a stunning window display for the latest black fixture and Statement & Anthem showering collection with new designs, colours and finishes and innovative technologies in an array of global products, including:
StatementTM Shower Collection brings a range of unique shapes and an array of sizes to the shower. Innovative sprays elevate the showering experience, and universal compatibility means the system works wherever in the world it is installed. Inspired by iconic furniture and design and defined by soft, approachable forms, the collection carries an underlying familiarity while creating striking aesthetics within the space
AnthemTM Valves and Controls, in which every aspect has been thoughtfully designed to give users a truly immersive showering experience, tailored to exact specifications and altered according to needs. With two- valve platforms to choose from – digital and mechanical– and meticulously engineered to fit global plumbing standards, these precision systems elevate the showering routine to a next-level sensory event, further expanding Kohler's industry-leading approach to digital showering.
This latest collection is meticulously crafted to fit global plumbing standards, opening the door to genuinely seamless specification and unfettered creativity.
Moxie® Handshower+WirelessSpeaker SOUND BY Harman/kardon - Remix your routine.
The Moxie® handshowerand wireless speaker combines a luxurious spray with a high-quality speaker powered by one of the most iconic names in speaker design - Harman Kardon. The Moxie speaker is tuned for the acoustics of the shower space for crystal clear sound. Your shower routine will never be the same again
Brazn bathroom collection - a New Angle on Minimalism. The new Brazn suite from KOHLER takes inspiration from the Modernist movement with pieces that combine the simplicity of minimalism with elegant, functional solutions. Available in striking Honed Black as well as White, Brazn is bold in any space.
These collections are not created for the contemporary living demand but also for KOHLER's remarkable milestone of gaining the leading brand in the market and keeping the mission of contributing to a higher level of gracious living for all people touched by Kohler's products and services.
"We are excited to be celebrating this milestone with RitaVo today as we embark our development on a timely manner. We continue to champion our key values of tradition, excellence, and innovation while making the world a better place through our various initiatives," said Angel Yang, President of Kohler Kitchen & Bath, Asia Pacific.
Mr Leo Leong, General Manager – Kohler Kitchen & Bath, South and North East Asia added, "The new showroom is designed by Kohler's team with unique designs for kitchen and bathrooms and as a conducive meeting place for visitors to discuss new projects or renovations. This showroom is a place to display KOHLER products and a destination for developers, architects and consumers to come together and get inspired."
The showroom is an innovative and inspirational hub that ignites creative ideas for a modern lifestyle and contemporary architectural designs for customers. It is a space that displays versatile portfolios of fully designed room layouts replicating real-life settings and featuring cutting-edge technology.
About Kohler Vietnam
KOHLER was established in Vietnam in 2006. To date, there are 22 showrooms nationwide, including the latest KOHLER Signature Showroom located at 482 Street 2/9, Hai Chau, Da Nang. In Vietnam, KOHLER is officially distributed by RitaVõ. For product information, please contact: (08) 3744 4399 / (04) 6282 2846 or visit kohler.com.vn.
About Kohler Co.
Founded in 1873 and headquartered in Kohler, Wisconsin, Kohler Co. is one of America's oldest and largest privately held companies comprised of nearly 38,000 associates. With more than 50 manufacturing locations worldwide, Kohler is a global leader in the manufacture of kitchen and bath products; engines and power systems; premier cabinetry, tile and lighting; and owner/operator of two of the world's finest five-star hospitality and golf resort destinations in Kohler, Wisconsin, and St. Andrews, Scotland.
As homes become increasingly connected, Kohler is focused on making everyday moments better through thoughtful design and smart technology. Kohler approaches smart bathroom design with the same dedication, precision, and care that has built the brand's global presence for well over a century.